Professional Speaking Engagements:
Basic Disaster Preparedness Presentations

Specific Preparedness Trainings

Natural disasters
Functional needs
Utilizing and managing trained volunteers
Mobilizing spontaneous volunteers
Practice drills and exercises
Community resources
Disaster & Emergency Prepardedness Training:
Program design, development and review

CERT (Community Emergency Response Team) Trainer

People with disabilities and functional needs
Community and Corporate Preparedness Planning:
Disaster preparedness-related project and event coordination

Emergency plan development

Staff training

Resource guidance
Disaster Planning for People with Disabilities and Functional Needs
---
Samples of Speaking Engagements/Presentations
San Francisco KRON-4 TV News Interview : Preparedness tips following a major emergency. 2003. Duration: ~4 minutes.
---
KTSF Channel 26 Chinese TV: Interview on the AmeriCorps Local Emergency Response Team program through City College of San Francisco. 2006. Duration: ~12 minutes.
---
TV Tokyo documentary: Segment of JoAnn Scordino preparing a family in their home for earthquake prepardeness. 1995. Duration: ~7 minutes 30 seconds.

Contributing co-author to Get Organized Today, chapter: Disasters Happen - Organize for Action Now
"The students and I really appreciated Ms. Scordino's kindness, enthusiam, and great sense of humor! Over the years, this workshop has proven to be a great way to introduce our new international students to the many ways in which they can prepare themselves in the event of an earthquake or other major natural disaster.
In fact, the workshop that Ms. Scordino has organized over the years has been so well received by our students that we have made it a regular part of our new International Student Orientation Program."
- Office of International Programs, San Francisco State University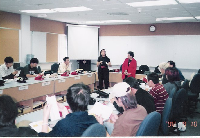 JoAnn's AmeriCorps Local Emergency Response Team (ALERT) students from City College of San Francisco -- attending her lecture and Emergency Operation Center tour.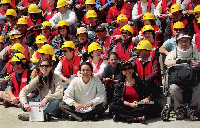 Team of trained community members and leaders at San Francisco City Hall for the annual Neighborhood Emergency Response Team (NERT) drill.

"... it was evident that Ms. Scordino understood the necessity to provide safety information to the senior volunteers, not only for the seniors themselves but also for the at-risk children and frail elderly persons they serve citywide ..."
- Family Service Agency