Click to View Projects Experience:
---
As a Speaker
"Preparing Our Most Vulnerable and Venerable Populations for Disaster", speech at the Global Interactions, China-U.S. Emergency Medical Services Conference in Beijing, China.

"We Can't Do It Without You – Educating the Public and Training Volunteers", speech at the IAEM Disaster Managers Conference in Caserta, Italy, on educating the public, training and using volunteers in emergency management planning.

"Creative Ways to Engage and Prepare People with Disabilities in Emergency Planning", keynote speaker at the National Organization on Disabilities, Emergency Preparedness Initiative's 2008 Technical Conference, San Diego, CA.
---
As a Facilitator
August 2010, Lead facilitator for the John F. Kennedy Center for the Performing Arts, Leadership Exchange in Arts and Disability (LEAD) Conference and Training in San Diego, CA. "Emergency Preparedness" workshop.

Lead course facilitator for the City College of San Francisco, AmeriCorps Local Emergency Response Team (ALERT) college internship program.

Co-facilitated the "Emergency Planning and Special Needs Populations" FEMA G197 training for the California Specialized Training Institute (CSTI).
---
As a Trainer
Trained over 20,000 residents in basic emergency preparedness with the City & County of San Francisco's, Office of Emergency Services over a ten-year term.

Train Community Emergency Response Team (CERT) residents and corporate employees (Genentech) in the San Francisco/Bay Area, CA.

American Red Cross, Certified Disaster Instructor, previously facilitated classes in Emergency Operations Center, Mass Care & Shelter Operations, and Volunteer Management.
---
As a Functional Needs Planner:
Served as project lead for the San Francisco/Bay Area and Hawaii regions in a nationwide research project surveying the level of participation between emergency management agencies and disability organizations post Hurricane Katrina.

Acted as a facilitator for the regional state teams at the Federal Departments of Homeland Security and Health & Human Services "Working Conference on Emergency Planning for People with Disabilities and the Elderly" in Washington D.C., June 2006.

For the San Mateo County Sheriff's Office of Emergency Services, created a countywide network of leaders to support people with disabilities and older adults in personal disaster preparedness. The initial goal to recruit 50 leaders for a Train-the-Trainer program produced 98 leaders who delivered trainings to over 1200 persons in a six-month period.
---
As a Community Preparedness Planner:
Upgraded the overall San Mateo County disaster preparedness efforts to build a stronger Community Emergency Response Team (CERT) network among the 20+ cities, towns and unincorporated areas by

Creating a county disaster preparedness website www.smcready.org
Wrote and co-produced a half-hour video designed for public TV "Get Ready San Mateo County"
Designed tracking systems for program accountability and growth development.

For City College of San Francisco, implemented the "AmeriCorps Local Emergency Readiness Team" (ALERT) program; wrote the community preparedness course curriculum and developed the student intern program with community-based agencies.

As the Community Disaster Preparedness Coordinator for the San Francisco Office of Emergency Services, worked in partnership with government agencies, businesses, community based organizations, neighborhoods and the general public to greatly increase preparedness efforts community wide.

Initiated and led the Citizen Corps Council of San Francisco
Promoted citywide Neighborhood Emergency Response Team (CERT) program and served on Advisory Board as the Government Liaison.
Lead disaster planner for special needs populations including seniors, disabled, children, homeless, low-income and non-English speaking populations, serving on several boards and committee's, most notably as the Executive Board's Government Liaison to the San Francisco Collaborating Agencies Responding to Disasters (SF CARD) voluntary organizations.
Organized five annual Fleet Week community disaster preparedness fairs.
---
As a writer:
Contributing author chapter "Disasters Happen – Get Organized for Action Now" for the book Get Organized Today, Power Dynamics Publishing, 2010.

Co-writer of the emergency shelter annex for the FEMA 2006 Gulf Coast Hurricane Evacuation Plan, at the FEMA Joint Field Office in Baton Rouge, LA.

Script writer of a half-hour "Get Ready San Mateo County" video for public TV.

Feasibility study report for a disaster registry for seniors & people with disabilities.
---
As an Emergency Manager:
On September 11, 2001, served as both the Duty Officer and Acting Director for the initial activation of the Emergency Operation Center and media responses for the City and County of San Francisco.
o Post 9/11 coordinated all community preparedness outreach responses, materials, trainings and public service announcements.

On a regular basis, responded to local and regional emergency responses during ten-year period with the City & County of San Francisco's, Office of Emergency Services.

During the Hurricane Katrina recovery efforts, served as a Shelter Planner for the Evacuation Management Unit of the federal Joint Field Office (JFO), in Baton Rouge, LA.

Co-wrote the shelter annex for the FEMA 2006 Gulf Coast Hurricane Evacuation Plan
Supported efforts to secure a greater number of shelter sites and spaces, in collaboration with the transportation, logistics, security and special needs teams.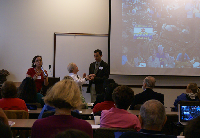 The San Mateo County Train the Trainer program for people with disabilities and older adults was kicked off by JoAnn introducing keynote speaker Dave Lipin, commander of the Disaster Medical Assistance Team, Region IX, in charge of the special needs shelter at the Super Dome during Hurricane Katrina. It was a powerful way to start the day – picture of the scene at Hurricane Katrina's SuperDome in the background.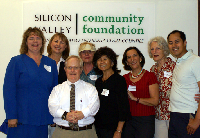 Lead team of the San Mateo train the trainers workshop.
"... thank you so much for all your support and help at the NERT Citywide Drill. You are passionate and sincere about wanting to make a difference in the lives of others!"
- San Francisco Fire Department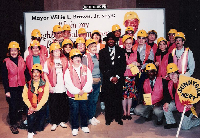 The Honorable Willie L. Brown, Jr. Mayor of San Francisco, 1996 – 2004, appointed JoAnn as the Community Preparedness Coordinator for San Francisco. Shown here with a team of the community neighborhood emergency response team (NERT) volunteers.
"... thank you so much for making the Fleet Week Community Disaster Preparedness Fair such a fabulous event .. from my perspective it went off without a hitch."
- Salvation Army of San Francisco